Market Beating Performance Since Inception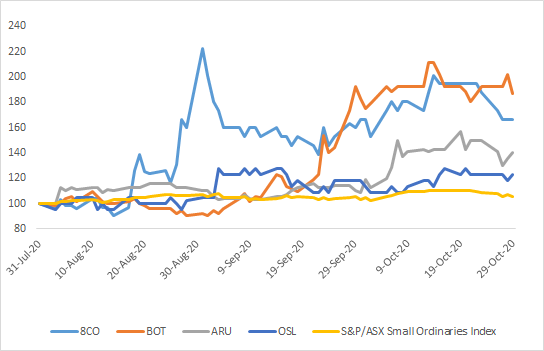 Note: S&P/ASX Small Ordinaries serves as a benchmark for the comparison. Relative Performance since 31st July 2020 Rebased to 100; Data from ASX, Refinitiv, Kalkine (*31 July 2020 to 29 October 2020)
Some Winners from Our 'Stocks Under 20 Cents' Portfolio*
8COMMON LIMITED
(ASX: 8CO)
Software & Tech
Services
84.62%
since recommendation
Botanix Pharmaceuticals Ltd (ASX: BOT)
Cannabinoid Pharmaceutical
Company
79.63%
since recommendation
Arafura Resources Limited(ASX: ARU)
Mineral Exploration
Company
41.43%
since recommendation
Oncosil Medical Ltd
(ASX: OSL)
Medical Technology
Company
28.57%
since recommendation
*Gains have been estimated using average buy values in view of multiple recommendations given over time. The same also take into account dividends over the length of coverage. Past performance is neither an indicator nor a guarantee of future performance.
Why S&P/ASX Small Ordinaries Space Holds Some Importance?
S&P/ASX Small Ordinaries outperformed S&P/ASX 200 price returns by +6.6% YTD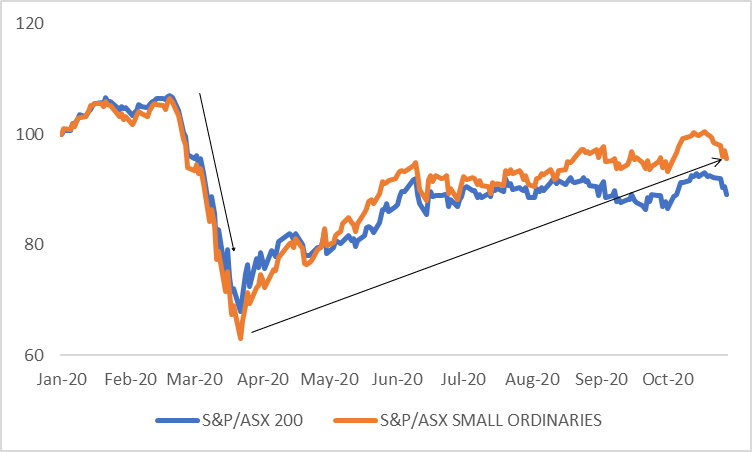 S&P ASX Small Ordinaries plummeted 41% versus 36% fall in S&P/ASX 200 since the
peak in Feb'2020
Impressive recovery of ~52% in S&P/ASX Small Ordinaries since March' 2020 lows versus
31% recovery in S&P/ASX 200 Index
Data Source: ASX, Created by Kalkine (as at the close of 29th October 2020); Relative Performance since
2nd January 2020 Rebased to 100
Stocks under 20 cents
For $69 For $39
By proceeding for the payment and clicking on the button below, you agree to Kalkine's
Terms and Conditions
and agree to receive marketing offers including to be contacted by email or phone, as set out in our
Privacy Policy
.
Any calls will be made by Kalkine Pty Ltd or Kalkine Solutions Private Limited on our behalf.
This subscription will automatically renew at the end of the term.
Kalkine's 'Stocks Under 20 cents' report can offer access to high growth small-caps (less than $300 million market capitalization) with potential to generate alpha returns
Remember, Investment during early stages of a company's growth can sometimes yield tremendous rewards
It is also important to conduct extensive due diligence as associated risk(s) is also higher for such stocks
Avail advantages from market disruption
We aim to cover businesses with improving balance sheets and ROE while highlighting the proportionate level of risks to be looked at
The subscription will auto-renew at the end of the subscription period. We will notify you of renewal via an email reminder 07 days prior to the date of renewal. At any point in time, you can cancel your subscription and stop future charges to the subscription by sending an email to our customer support team at
[email protected]
.
Risk-Reward Trade-off for Small-Cap Investors
Investors should be wary of the velocity and gravity of stock market correction for small-cap stocks as panic sweeps in during uncertain times

Highly leveraged businesses with discretionary revenue sources may be more prone to volatility

Small businesses carry higher risk(s) versus well-established large-cap and mid-cap companies

Systematic or unsystematic risks need to be analyzed in a comprehensive manner to minimize the uncertainty around stocks
Thousands of Loyal Members
We have been proudly featured in
Australian Financial Review
The Sydney Morning Herald
We have been proudly featured in
Australian Financial Review
ABC
News
Yahoo
Finance
S&P
Global
Sky News
Business
The Herald
Sun
The Sydney Morning Herald
The Digital
Banker
Contact us
Suite 202, 234 George Street, Sydney, New South Wales, Australia. 2000
Toll Free No: 1800-272-662
(02) 9042 2324, (02) 9042 2353, (61) 29159 2555
ABN: 34 154 808 312 ACN: 154 808 312 Copyright © 2022 Kalkine Pty Ltd. All rights reserved.
---
Disclaimer - Kalkine Pty Ltd (ABN 34 154 808 312) holds Australian Financial Services Licence (425376). Kalkine is authorised to provide general advice only. The information on https://www.kalkine.com.au/ does not take into account any of your investment objectives, financial situation or needs. Before you make a decision about whether to acquire a financial product, you should obtain the Product Disclosure Statement from the product issuer. You should consider the appropriateness of advice taking into account your own objectives, financial situation and needs and seek independent financial advice before making any financial decisions.